News Archive
2020

2019

2018

2017

2016

2015

2014

2012

2011

2010

2009

2008

2007

2006
Mapfactor Navigator 2.1 for Android released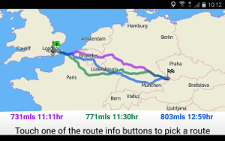 The new version of MapFactor Navigator for Android has been released on March 21, 2016.
The 2.1 version brings some exciting changes, like the Premium Features and many other improvements.
- Alternative routes
- Head Up Display
- Ability to remove Ads
- User Interface
- Better Tools dialog
- Improved Route Info dialog.