E-shop
Shop info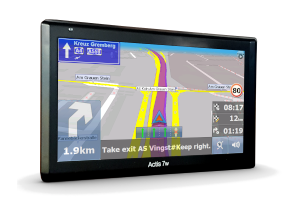 GPS Navigation Actis 7 WiFi single country
3 years map updates for free
Big 7 inch hi-resolution display, dual core processor, WiFi
More than just a navigation
Price: 311.50 EUR
Price (VAT incl.): 377.00 EUR
Description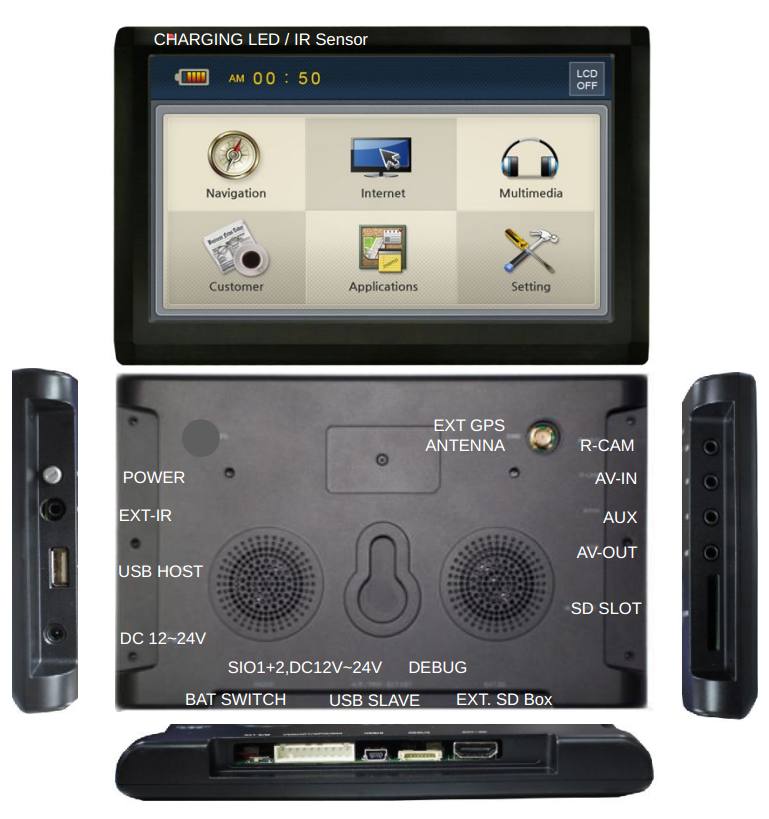 GPS navigation device ACTIS 7 with preinstalled navigation software Pocket Navigator is a modern gps navigation which also offers applications for spare time: audio and video player, photo viewer, calculator and notepad.

At the same time, it can be connected to the Internet thanks to integrated WiFi antenna and used for searching relevant information, accessing to e-mail address, having fun etc.

Actis 7 WIFI also means:
Big 7 inch hi-resolution display
Dual core processor
WiFi
Support for an external TMC receiver (traffic information)
Possibility to connect it with a rear camera
Audio/Video input and output
Multitasking for using more applications simultaneously
USB host port for connection with another devices
The integration into more sophisticated logistics systems can be realized by one connector which includes a power supply and 2 serial ports.
Actis 7 also supports remote TCP/IP messaging through our vehicle tracking unit VTU 10. You can send text messages, assign new destinations from your dispatching central, etc.
Your Application in Actis 7
You can run your application for WinCE 6.0 under the button CUSTOMER
WinCE 6.0 in Actis7 contains .NET 3.Your Application can run with Navigator simultaneously. You can switch between the Applications with the Hardware buttons or with TCP/IP commands
Integration into superiour telematic systems
Navigator can be integrated with other programs with a number of external commands. These can be sent to Navigator via serial interface or TCP / IP. So you can resize the Navigator window, change various settings, send new routing points or communicate with the driver similar to ICQ and many others. You can also obtain information from Navigator, e.g. remaining time or distance to destination, current coordinates, and many others.
The list of current commands can be found here.
Other modifications in Navigator can be done by changing the configuration files. Buttons may be removed from the menu or may be added to the map/navigation screen.


Features
Basic features of GPS navigation Actis 7 WiFi
Modification of roads parameters
Detailed road types set preferences for searching of optimal routes
Warnig for speeding
Airplane mode (off-road)
Extended TCP/IP commands for remote communication or communication between 2 softwares (dispatcher can chat with conductor or can send him new destination, etc. using our VehicleTruckUnit)
Voice guidance
Intuitive voice navigation in different languages
Door to door route planning
Cross-border routing without the need to switch between countries or to a less detailed map
Overview of the upcoming manoeuvre and its distance
ETA to your destination
GPS satellite navigation
Assistant for traffic lines shifting
2D/3D mode allows realistic visual map display
Day/night modes switch colour schemes for day or night time driving
Map rotates in driving direction, or north up
Searching
Find nearest points of interest
Postcodes
Full GB postcodes (1.8 million)
Speed cameras
Hear audible warnings as you approach speed cameras
Special features
Odometer keeps a track of private and business mileage
Routing modes for car, pedestrian, truck
Optimization of the order of waypoints
Add your own favourites
Direct import of your own favourites databases from xls, dbf, Access, ArcInfo, MapfInfo files or another ODBC sources
Route avoidance - block off certain road from your route
Multitasking for using more applications simultaneously
Real 3D icons of important landmarks
Tech. specifications
Physical Attributes

Dimensions in millimetres:

182 x 115 x 21 (width x height x depth)

Weight:

410g

Processor and Memory

CPU:

Telechips TCC8803 Dual Core 1,12GHz core + 1GHz dsp

ROM size:

256MB NAND Flash

RAM size:

512MB DDR2

OS:

MS Windows CE.NET 6.0 core

Graphical subsystem

Display:

Digital TFT Touch screen LCD

Colordepth:

24 bit full color

Resolution:

800 x 480 WVGA

Diagonal:

7 inches

Brightness

400 cd/m

Audio subsystem

Speaker:

1,5 W (built-in) 36 π (Stereo) x 2

Audio Output:

3.5mm, stereo

Interfaces

Positioning Device:

C Touchscreen

Expansion Slots:

MMC, SD

USB Connector:

USB 2.0 host

IR receiver

IR remote control

GPS Module:

U

BLOX 7

Serial Port:

RS 232, TTL

Power Supply

Power:

12V/14V 1.5 A (side 1port, bottom 1port)

Battery:

1600mAH Li-polymer

Multimedia

Video player:

Codec format : MPEG-1/2/4, H.263, H.264
File format :3GP, MP4, AVI, MKV, MPG, M2TS, TS/TP, FLV

Audio player:

Codec format : MP2, MP3, MIDI, OGG, AAC, WAV, FLAC, BSAC, DTS
File format : Ogg Media (*.ogg) / MP3 (*.mp3) / WAV

Photo viewer

JPG, JPEG, PNG, BMP,GIF

[Note]:

Because of codec licensing some files may not play.

Extra

TMC:

Supports external TMC receiver

AV in:

for external source

AV out:

Dual display (optional)

Rear Camera:

Input for Rear camera

WiFi:

802.11/b/g/n
Map coverage
To check availability of other states please contact us.