Support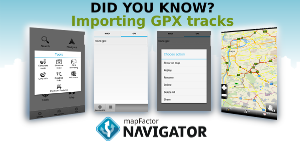 8. Importing GPX tracks
Navigator can import GPX journeys and waypoints.
Description
If you have recorded a trip or exported a GPX file from another mapping system, you can simply click on it on your phone and you will get an option to open it in Navigator.
Depending on the information in the GPX file Navigator will import the data into My routes or as a track into GPS recording which can be accessed through My places/GPS recording in the menu.
Note: You can always copy the GPX file manually to your device memory - copy it to \Android\data\com.mapfactor.navigator\files\navigator\gpx. Then you will see it directly in My places/GPS recording as if you had recorded the route yourselves on this device.
To show it on the map select the GPX tab and tap on the file you have just imported. From the pop-up dialog select Show on map.
Further information on Recording a journey in Navigator.
Last update: 20/2/2019