Support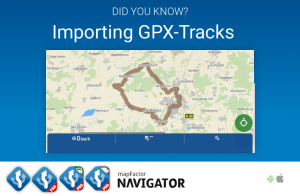 Importing GPX tracks
Did you know that you can import GPX journeys and waypoints into Navigator and display them on the map and more?
Last update: September, 2022
Description
If you have recorded a trip or exported a GPX file from another mapping system, you can simply click on it on your phone and you will get an option to open it in Navigator.
Depending on the information in the GPX file Navigator will import the data into My places / My routes or as a track into My places / GPS recording.
Manual import of GPX files:
Note: This possibility is usually not available in the new Android OS versions, where these files are hiden to users.
You can copy the GPX file manually to your device memory. Copy it to \Android\data\com.mapfactor.navigator\files\navigator\gpx. Then you will see it directly in My places/GPS recording as if you had recorded the route yourselves on this device.
To show it on the map tap on the file you have just imported / wish to display. From the pop-up Actions dialog select Show on map.
Further information on Recording a journey in Navigator.
Last update: September 2022