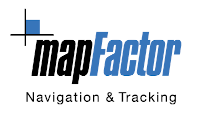 About
Description
MapFactor, s.r.o. is a Prague based company developing navigation software and vehicle tracking systems since 2001.
Our products are aimed to the fast-growing market of mobile navigation technologies.
Since 2007, we specialize in navigation solutions for professional drivers, dispatcher - driver communication, and the possibility of integrating our navigation and tracking systems into bigger logistics systems.
We deliver:
navigation for common users
specialised navigation software and navigation devices for trucks
navigation systems for integrated rescue system (emergency medical service, fire brigade) etc.,
vehicle tracking and fleet management.
Our navigation software is available for Android, iOS, Windows, WinCE and Windows Phone OS.
Contact:
MapFactor, s.r.o.
Štefánikova 24
150 00, Praha 5 - Smíchov
Czech Republic
You can find us here: GPS - 50°4'30.86"N,14°24'15.89"E (show on map)
Open from Monday to Friday 9:00 - 17:00
Phone: +420 257 328 300
Office: info@mapfactor.com
Support: support@mapfactor.com
Shenzhen office:
15F, Seaview Plaza, No.18, Taizi Road, Shekou, 

Nanshan District, Shenzhen, China

Contact: Athena Lee

line: +86-13925262500
fax: 86-0755-26807899