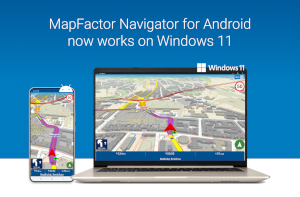 MapFactor Navigator for Android now works on Windows 11!
A big breakthough! One of the best rated free offline GPS navigation apps for Android, MapFactor Navigator, is now available for Windows 11!
Description
Although there has been Navigator software for Windows and WinCE OS since 2002, called PC Navigator, many customers prefer the Android version of Navigator, as it offers enhanced features and a nicer UI. Now, users with devices running Windows 11 can use Navigator for Android as well, which is great news!
Simply download Navigator from the Amazon AppStore onto a Windows 11 device and enjoy Navigator for Android on your laptop or PC. An additional GPS receiver for accurate navigation is also available.
Android version of MapFactor Navigator on Windows 11 offers everything that users have been used to when using Navigator on an Android smartphone or tablet, which is a reliable free offline GPS navigation with detailed voice instructions including:
overview of the upcoming manoeuvre and distance shown on the screen
free offline maps with postcodes (full GB postcodes) installed on the device
points of interest
speed limit and camera warnings
favourite routes and places
2D/3D mode allows realistic visual maps display
day/night map mode
routing modes for a car, bus, truck, pedestrian, bicycle, motorcycle, mobile home
route avoidance - block off a certain road from your route
maps rotate in driving direction, or north up
customisation possibilities
The new Windows 11 version brings also the optional features of Navigator for Android:
professional TomTom maps
Premium Features: Alternative routes, Head-Up Display, App colour themes
Live HD Traffic information (over 80 countries)
Online Search
Remote commands
For customers using previous versions of Windows OS or with WinCE devices the usual PC Navigator for Windows/WinCE will be further available.
About MapFactor Navigator
MapFactor Navigator is a free offline GPS navigation app for Android, iOS and Windows smartphones and tablets with more than 35 million downloads. It offers detailed step-by-step voice navigation in various languages, OSM map coverage for over 200 countries and a variety of useful features. Thanks to offline maps, it can navigate completely without a data connection. Optionally it offers professional TomTom maps for standard vehicles or trucks.
About MapFactor
MapFactor has been developing navigation software and vehicle tracking solutions for more than 20 years. It is known worldwide especially for its navigation software Navigator for Android, Windows / WinCE and iOS, which has exceeded 50 million installs all over the world.
Further information
– press releases page
– NavigatorFREE product website
DOWNLOAD all press materials incl. screenshots here (G. Drive folder).
Navigator 7.3 for Android on Windows 11 - screenshots