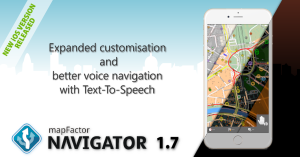 MapFactor Navigator 1.7 introduces TTS and expanded customisation option
MapFactor Navigator 1.7 for iOS devices now includes TTS for better navigation information, new many customisation options and further improvements.
Description
MapFactor Navigator 1.7 for iOS devices has just been released. It brings exciting changes and many improvements.
Text-To-Speech increases voice navigation information with audible street names.
Possibility to block certain road types from routing (e.g. toll roads). You find this setting in Route info / Route setup.
New map customisation options to improve the user experience:
- Choose your day and night map colour schemes
- Show or hide individual POI categories on the map
- Adjust the size of map objects (text size, road size, icon size)
Further changes involve improved map update notifications, bug fixes and stability improvements.
Illustration of day and night map colour schemes: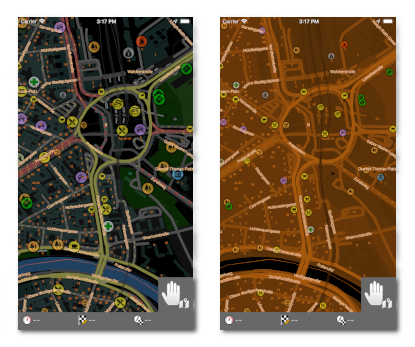 Download press release and pictures of Navigator 1.7 (.ZIP file)