Products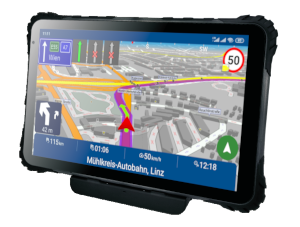 Actis 10 Rugged
New in 2023!
GPS Navigation device - Android 10 Rugged Tablet - with preinstalled MapFactor Navigator for Android - navigation software for standard vehiclesand 3 years free map upgrades.
Big 10" IPS display, Octa-Core processor, 2G/3G/4G with voice, Wi-Fi, Bluetooth, 16MP Camera, drop resistance and more.
Actis - more than just a navigation.
Description
Actis 10 Rugged Tablet is desined to improve productivity for mobile workers even in extreme conditions. Take advantage of Navigator for Android features on the new rugged Android tablet. Professional TomTom Standard maps and 3 years map upgrades included.
Actis 10 Rugged is a rugged tablet running Android 11, equiped with 2G/3G/4G with voice, Wi-Fi, Bluetooth, a 16MP camera with autofocus and flash, a long-lasting 7600mAh battery and a large 10" IPS display.
Thanks to its drop resistance* Actis 10 Rugged is suitable for use even in more extreme conditions, such as temperatures from -10 °C to 60 °C*.
*For more details see technical data sheet of Actis 10 Rugged device.