E-shop
Shop info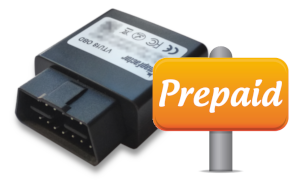 Tracking4Free Vehicle Tracker Europe (EUR) - Prepaid
Control effectively your fleet with GPS tracking unit Tracking4Free VTU18 OBD. For one single payment you get tracking unit VTU18 OBD with SIM card incl. roaming in EU, all future data, free map updates and support - everything for a prepaid peroid of 5 years. NO MONTHLY COSTS ever. Constant overview of the condition and location of your vehicle, reporting and other features.
Price: 200.00 EUR
Price (VAT incl.): 242.00 EUR
Description
Take control of your vehicle fleet with no hidden charges or extra data costs.

Rely on device from the market leader who has been delivering tracking solutions since 1996.
Advantages of Tracking4Free vehicle unit VTU18 OBD:

Live Vehicle Tracking covering EU
Constant overview of the condition and location of your vehicle - fully automatic transmission of all data up to 20x per minute
Accurate fuel consumption, RPM, OBD error codes can be read from vehicle on-board computer
Easy installation into the OBD connector in the vehicle. Immediate use. Easy transfer from one vehicle to another. No installation cost.
No monthly charges - PREPAID for 5 years - one single payment covers VTU18 OBD, SIM card with roaming in Europe, all future data, free map updates and support.
Offline tracking software - data is stored on user's PC for added security.
The unit reports when on the move and comes with MapExplorer, street level mapping software, for tracking your vehicles and controling your fleet. As well as real time monitoring the program offers several configurable reports.
Features
Localisation
Tracking
Reporting
SMS Alarms (optional)
Geofencing
Map coverage
Andorra, Austria, Belgium, Bulgaria, Croatia, Cyprus, Czech Republic, Denmark, Estonia, Finland, France, Germany, Gibraltar, Greece, Hungary, Ireland, Italy, Latvia, Liechtenstein, Lithuania, Luxembourg, Malta, Monaco, Netherland, Norway, Poland, Portugal, Romania, Slovakia, Slovenia, Spain, Sweden, Switzerland, United Kingdom
Dispatching software
Realtime route monitoring
You can track your vehicle by two options:
1) Dispatching software MapExplorer
Dispatcher can see in MapExplorer software current position of all vehicles approximatelly every 30 second and it does not matter if the vehicle is in Spain, Russia without any other costs.
2) Web application MapsOnline
The application can be launched in browsers in most computers, smartphones, tablets, androids, iPads, iPhones... without a need to install any software.
In this application you can create for your customers a time-limited access to the vehicle tracking, so that your customers see the location of your vehicles only when you want.
Dispaching software
Dispaching centre consists of user friendly street level mapping software MapExplorer, for tracking your vehicles and controling your fleet. Software enables processing and evaluation of recorded data. On of its most important function is representing passed routes, playback of vehicle going and statistical reports. Another function is electronical Log book.
Log book
Log book is created from saved informations (date, time, position etc.). The whole system works automatically, does not allow to driver to interfere with it, therefor the informations are exact.
Software allows data export to programs for further fleet management, for example SPZ 2007 from Milk Comupters.
Software is for operatins systems Windows 200/ XP/ Vista/ 7.
Images
Tech. specification




VTU 18 – OBD specification






GSM
Frequency
Quad band: 850/900/1800/1900 MHz
GPRS
GPRS multi-slot class 12
GPRS mobile station class B




GPS
GPS Chipset
u-blox 6m GPS module
Sensitivity
Autonomous: -147 dBm
Hot start: -160 dBm
Tracking: -162 dBm
Position Accuracy
Autonomous: < 3m
SBAS: 2.0m
TTFF
(Open sky and AGPS)
Cold start: 25s average
Warm start: < 25s
Hot start: < 1s




Interfaces
OBD Port
J1850 PWM
J1850 VPW
ISO 9141-2
ISO14230(KWP200)
ISO15765-4(CAN)
SAE J1939(CAN)
Indicator LED
GSM, GPS and OBD
USB
Mirco USB port for configurations,
Upgrading and debugging




General
Dimensions
62mm(L)*50mm(W)*23mm(H)
45mm(L)*50mm(W)*23mm(H), not include J1962 connector
Weight
About 50g
Backup Battery
Li-Polymer 3.7V 180 mAh
Power consumption
70mA(Active),10mA(Sleep),Max.<250mA
Operating Voltage
8V to 32V DC
Operating Temperature
-30℃ ~ +80℃ (without battery)
-40℃ ~ +85℃ for storage (without battery)
Memory
8Mb(about 15000 records max.)
Sensor
3-axes ±2g/±4g/±8g/±16g accelerometer
Vehicle battery voltage
Back battery voltage
Temperature sensor
For download