Products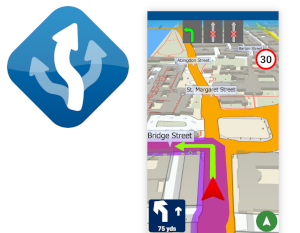 MapFactor GPS Navigation (Android)
Free GPS navigation app mapFactor Navigator for smartphones and tablets with Android, with voice guidance and detailed gps maps of Europe, USA, Canada or other countries.
Description
Details and installation of the mapFactor gps navigation app for Android are available at mapFactor Navigator page in Google Play and Huawei AppGallery.
MapFactor Navigator is a free turn-by-turn GPS navigation app for Android with postcodes and free maps from OpenStreetMaps. These free maps and postcodes are installed on your device or SD card so you do not need an Internet connection when traveling. Free Maps are updated every month for FREE.
OpenStreetMaps are created and updated by the community at www.osm.org.
Optional TomTom GPS navigation maps and postcodes are also available.
Key features of the Mapfactor GPS Navigation App:
Voice guidance
intuitive voice navigation in different languages
door to door route planning
cross-border routing without the need to switch between countries or to a less detailed maps
overview of the upcoming manoeuvre and distance shown on the screen
GPS satellite navigation
2D/3D mode allows realistic visual maps display
day/night modes switch colour schemes for day or night time driving
GPS maps rotate in driving direction, or north up
Searching
find nearest points of interest
postcodes
full GB postcodes (1.8 million)
Speed and camera warnings
Further features
add your own favourite locations and routes
route avoidance - block off certain road from your route
remote commands - send a new destination, a short message etc. into the navigation
Navigator Truck version includes route optimization for large vehicles based on vehicle height and weight. It avoids low bridges and narrow lanes.
Premium Features
(Navigator 2.1 and higher)
Ability to remove Ads
App colour schemes
Live HD traffic information
(Navigator 3.0 and higher)
Avoid traffic problems with online traffic information.
Video