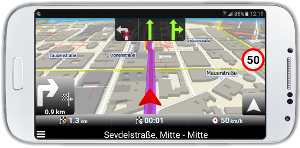 MapFactor Navigator 2.2 for Android adds more customisation possibilities
Navigator 2.2 version for Android devices released at the beginning of this September brings many exciting and useful changes.
Description
Alternative routes, a premium feature introduced in version 2.1, has been further developed and now includes choices for shortest and cheapest routes.
The Settings dialogue has been redesigned so that it is better-arranged and easier to navigate.
There is a new customisable map toolbar which user will love. The new toolbar is displayed after tapping on the map. Users can select which buttons to display.
Watch our video on the new customisable map toolbar of Navigator 2.2
Also new is an advanced setting for sound output. It is now possible to select a custom channel for Navigator.
The colour of the navigation arrow is now customisable too. (Read our post on the customisation of the navigation arrow.)
Further improvements:
improved Bluetooth audio
other stability improvements
many GL rendering enhancements and fixes.
Download press release about Navigator 2.2.
Download screenshots of Navigator 2.2 version
More detailed information available also in our Medium.com post 8 useful enhacements in Navigator 2.2 you should not miss out