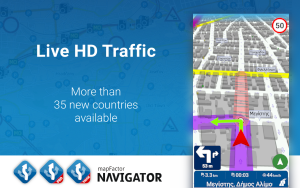 Live HD Traffic in Navigator - new countries with online traffic information now available
The live HD Traffic feature connects Navigator to the online world, keeping the drivers updated with the current situation on their route.
Online traffic information has been available in MapFactor Navigator since April 2017 (Android) and November 2019 (iOS). But the number of countries covered has now been increased.
Description
HD traffic offers live traffic information that is displayed on the map and used for route calculation and its optimisation.
More than 35 new territories with online traffic
In February 2021 many new territories have been added to HD Traffic and are now available in Navigator for Android and iOS - 29 new territories in Europe, 6 in Africa and 3 in America.
The list has more than doubled to 60 territories. (see below)
For example: Bulgaria, Croatia, Greece, Hungary, Romania, Russia, Serbia, Slovakia, Baltic countries, Mexiko, Egypt, Marocco and many others.
And even more regions are yet to come in 2021 (parts of Asia, Oceania, South America, Middle East etc.).
Note: Navigator itself does not gather or store any user location data unlike most other navigation apps, offering its customers greater privacy. Live traffic data is sourced from TomTom.
Read our Did you know? HD Traffic feature for more details.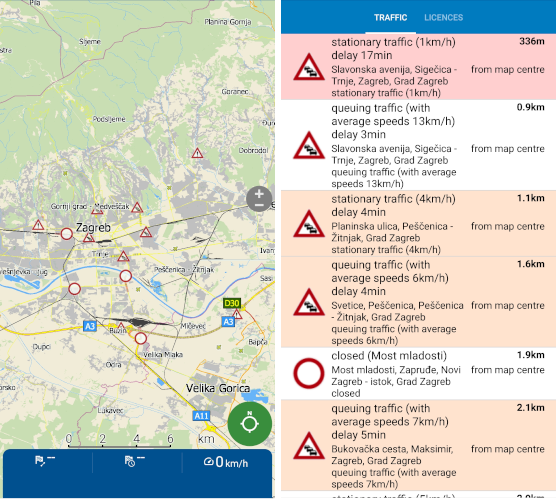 Example: Online traffic in Zagreb (Croatia)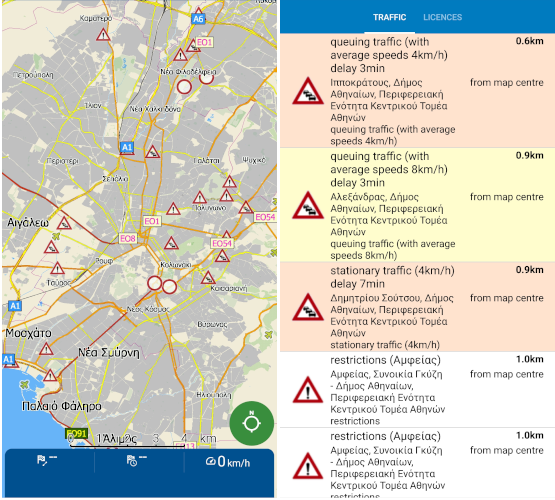 Example: HD Traffic information in Athens (Greece)
How to get online traffic to Navigator?
All Navigator PRO and Navigator Truck PRO customers have this feature included in their yearly subscription.
For NavigatorFREE users, HD Traffic is available as an in-app purchase (Tools / Buy maps) on a monthly, quarterly or yearly subscription.
Customers with an active subscription will automatically get access to new countries in their subscribed region.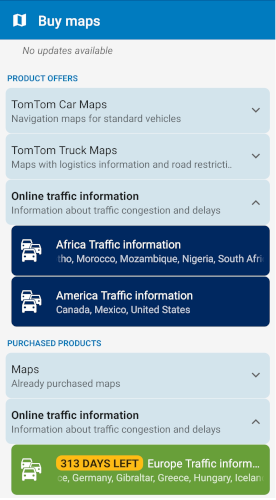 List of countries now covered by Live HD Traffic (February 2021):
Europe
Åland Islands
new
Andorra
new
Austria


Azores and Madeira
new
Balearic Islands
new
Belarus
new
Belgium


Bosnia-Herzegovina
new
Bulgaria
new
Canary Islands
new
Croatia
new
Czechia


Denmark


Estonia
new
Finland


France


Germany


Gibraltar
new
Greece
new
Hungary
new
Channel Islands (Guernsey & Jersey)
new
Iceland
new
Republic of Ireland


Isle of Man
new
Italy


Latvia
new
Liechtenstein
new
Lithuania
new
Luxembourg


Malta
new
Monaco
new
The Netherlands


Norway


Poland


Portugal


Romania
new
Russian Federation
new
San Marino
new
Serbia
new
Slovakia
new
Slovenia


Spain


Sweden


Switzerland


Turkey
new
Ukraine
new
United Kingdom


Vatican City
new




Africa
Egypt
new
Kenya
new
Lesotho
new
Morocco
new
Mozambique
new
Nigeria
new
South Africa






North America
Canada


Mexico
new
Puerto Rico
new
United States of America


United States Virgin Islands
new