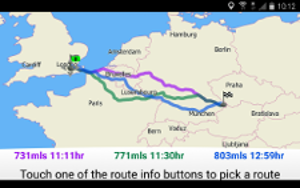 MapFactor Navigator 2.1 for Android introduces Premium features
The 2.1 version brings some exciting changes, like the Premium Features and many other improvements.
- Alternative routes
- Head Up Display
- Ability to remove Ads
- User Interface
- Better Tools dialog
- Improved Route Info dialog.
Description
The new version of MapFactor Navigator for Android brings some exciting changes and many improvements.
Premium Features in Navigator 2.1:
Alternative Routes
Select from 3 pre-calculated routes. Use the one which suits you best.
Price: 4 EUR (4.50 USD)
Head Up Display
Navigation instructions are projected on the windscreen of your car so you can keep your eye on the road.
Price: 3 EUR (3.30 USD)
Ability to remove Ads
Use Navigator without adverts for a distraction free experience.
Price: 2 EUR (2.30 USD)
App colour schemes (Navigator 5.0)
- introduced by Navigator 5.0 in May 2019
Adorn Navigator in your favourite colour! Futher 15 colour scheme options for your choice.
Price: 1 EUR (1.20 USD)
The Premium Features can be bought either separately or as a Mega Pack for a discounted price of 6 EUR (6.6 USD).
Further changes and improvements in the Navigator 2.1 version:
User Interface
Better Tools dialog
Improved Route Info dialog
Many improvements to GL rendering (hardware accelerated rendering)
Lots of other bug fixes
The new 2.1 version is available for free now in Google Play Store.