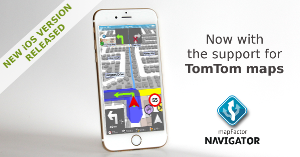 Navigator 1.1 for iOS now supports TomTom maps
A new version of MapFactor Navigator for iOS has been released with support for professional maps from TomTom.
Description
In comparison to the free maps from the OpenStreetMaps Project, which are created by volunteers and are not always consistent, TomTom maps are created by professionals. They offer better and more accurate map coverage, including house numbers, speed limits, detailed UK postcodes and further features, such as lane assistance. This makes them more reliable and accurate for vehicles navigation.
For large vehicle drivers we recommend the Truck version, which offers route optimization for large vehicles based on vehicle height and weight. It avoids low bridges and narrow lanes.
TomTom maps are available for regions:
Europe
Africa
North America and Mexico
Latin America (Middle and South America)
India
Asia
Middle East
About MapFactor Navigator:
The first version of MapFactor GPS Navigation Maps (MapFactor Navigator) for iOS was released in January 2018. It is a free GPS navigation app using free offline maps from the OpenStreetMaps project. OSM maps are updated every month at no extra cost. You can navigate without an internet connection in more than 200 countries. Navigator provides intuitive voice turn-by-turn navigation in different languages, including speed limit and camera warnings, and many other useful features.
Download a promo picture: