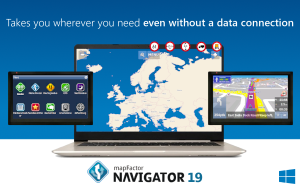 Navigator 19 – more accurate and reliable gps navigation with the most recent maps
Thanks to the latest offline maps, Navigator 19 can navigate you more precisely and reliably than ever before, even without a data connection. Simply download offline maps of any of the 200+ countries to your Windows PC, notebook, laptop or PDA and find the best route for you.
Description
Used by more than 5 million users all over the world, MapFactor Navigator offers turn-by-turn voice navigation with many great features like:
POIs
speed limit and camera warnings
lane guidance
motorway signs
different vehicle profiles and route optimisation modes
day/night mode
remote commands option
and many others.
There are two versions of Navigator 19. PC Navigator 19 for computers and laptops running Windows Vista/7/8/10 and Pocket Navigator 19 for navigation devices running Windows CE. Pocket Navigator 19 is also used on Actis GPS navigation devices for cars and trucks.
Why not try Navigator Free, using maps from the OpenStreetMaps project, or if you want more accurate and detailed professional maps you can buy Navigator Standard/Truck with TomTom maps.
Navigator 19 Truck – Don't get stuck under a bridge
We know how problematic it can be to drive a large vehicle, such as a truck or bus. To make this experience much easier, we developed Navigator 19 Truck. Based on TomTom Truck maps, which include enhanced information about road restrictions, it optimises a route based on vehicle's height and weight to avoid low bridges, narrow lanes and other obstacles.
OCX modules – integrate maps into your software
Thanks to our OCX module developers can easily and quickly implement Navigator maps to their own software. Use it for searching addresses, routes or even draw your own custom icons on the map.
MapFactor Navigator is available not only for Windows, but also for Android and iOS devices.
For more information visit Navigator's product page or email us.