News Archive
2021

2020

2019

2018

2017

2016

2015

2014

2012

2011

2010

2009

2008

2007

2006
Navigator speaks Klingon!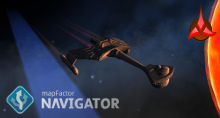 Are you a Star Trek fan? Then you will love that navigation instructions in Navigator are now available also in Klingon!
How to set up Kalingon navigation instruction for mapfactor Navigator:
1) Download a Klingon Text-to-speech engine to your Android device (e.g. here)
2) In your smartphone's setting, set Klingon TTS.
3) Open Navigator, go to Settings/Localisation/Navigation voice/Voice engine and choose Klingon Text-to-speech Engine.
Now you can hear navigation instructions in Klingon.
Original photo: Ryan Somma