News Archive
2023

2022

2021

2020

2019

2018

2017

2016

2015

2014

2012

2011

2010

2009

2008

2007

2006
News - 6/2008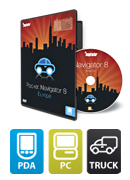 The news:
Truck version – the difference to standard version is that contains extra information about the maximum load capacity of bridges, the height of underpasses, the width of roads... The driver enters the total weigh, the weigh of axle, the height, the width and the lenght of his vehicle. According to the parameters given will be calculated the most optimised route for this specified truck.

Traffic lane assistant.

Real 3D icons of important buildings.

Maps from January 2008 – the most significant changes in coverage is 100% for Hungary, Poland and Slovakia. Very good improvement for maps of Turkey, Latvia and Russia.

GPS navigation device Actis is now being sold with 3 years free map upgrade.


We have reduced prices of our online tracking systems Vehicle Tracking and Personal Tracking. Now you can purchase European version for 11500,– CZK (without VAT) and version for single country for 10500,– CZK (without VAT).