News Archive
2023

2022

2021

2020

2019

2018

2017

2016

2015

2014

2012

2011

2010

2009

2008

2007

2006
News - 1/2020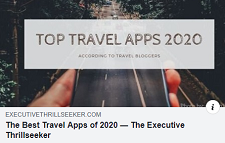 Navigator among The 16 Best Travel Apps Of 2020 (according to travel bloggers) published by The Executive Thrillseeker. Thank you!
"For road trips, you want a navigation app you can rely on – even when you are outside the reach of cellphone reception! That's where a true offline app becomes vital. We use the free app MapFactor Navigator with one premium add-on ($6 one-time), which gives us up to three alternative route options. The often recommended maps.me only offers a single route with a preference for motorways.
To use Navigator, you simply download the app and maps you need before departure. Map file sizes vary; currently, our smallest is Montenegro with 60Mb, our largest is the United Kingdom at 389Mb. You will probably want to customize the app settings before you leave too. This is where Navigator really shines! There are so many options to set, including waypoints for any given route – something I miss in other apps. In cities, you can use the same app for walking.
We travelled for nearly four years with our camper through South America, from the south of Argentina to Colombia in the north, often off-the-beaten-track, all without a dedicated GPS unit. On our blog, I have shared our experience with various offline navigation apps. Now in Europe, we still rely on MapFactor Navigator!
Contributed by: Juergen - dare2go"