News Archive
2023

2022

2021

2020

2019

2018

2017

2016

2015

2014

2012

2011

2010

2009

2008

2007

2006
News - 8/2012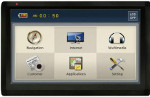 Modern navigation device that will satisfy even the most demanding customers. The quality of previous versions combined with new features, such as dual core processor and WiFi, makes it a companion wanted not just by professional drivers.
Big 7 inch hi-resolution display
Dual core processor
WiFi
Support for an external TMC reciever (traffic information)
Possibility to connect it with a rear camera
Audio/Video input and output
USB host port for connection with another devices
The integration into more sophisticated logistics systems can be realized by one connector which includes a power supply and 2 serial ports.
3 years map updates for free included.
Actis 7 WiFi - more than just a navigation.