News Archive
2021

2020

2019

2018

2017

2016

2015

2014

2012

2011

2010

2009

2008

2007

2006
News - 4/2012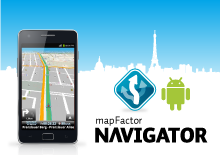 MapFactor Navigator is a free turn-by-turn GPS navigation app for Android phones and tablets using OpenStreetMaps data.
Maps are installed on the SD card so there is no need for an Internet connection when traveling. Map and app updates are FREE every month.
MapFactor also makes the popularNavigatorFREE for PC, Pocket PC and WinCE.