News Archive
2021

2020

2019

2018

2017

2016

2015

2014

2012

2011

2010

2009

2008

2007

2006
New Actis A7 3G with Android 4.0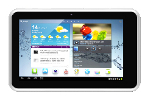 Another device more in MapFactor´s product line. Tablet
Actis A7 3G
with the latest
Android 4.0
Ice Cream Sandwich.
Dual-core processor Cortex-A9
HD resolution and 7´´ display
WiFi, 3G modem, Bluetooth
E-book, support formats EPUB, txt, PDF, Word, Excel, Powerpoint, etc.
2 cameras
Multimedia player, different formats
And offline GPS navigation thanks to the combination of aninternal GPS modulewith our navigation software Navigator
Combine business with pleasure and buy our new tablet
Actis A7 3G
.
Tablet Actis A7 3G - the best companion for every traveler.